Update - December 17th, 2019
When you next log into the ODX software application you'll be greeted by a new look and feel as we have just uploaded the latest user-interface to the ODX software application!
If you want to read about some of the new things we've added then please scroll down this post but I recorded a short video to show you behind the scenes.
Click the play button below to see it or why not log into the application and check it out for yourself!
8:07
New Areas On The Dashboard
Don't worry, the main areas of the software have not been touched. It's still as easy to use as ever but a few new features have been added to the dashboard:
Notifications
We've built in a notification center so we can easily communicate with you through the dashboard and through the notification center.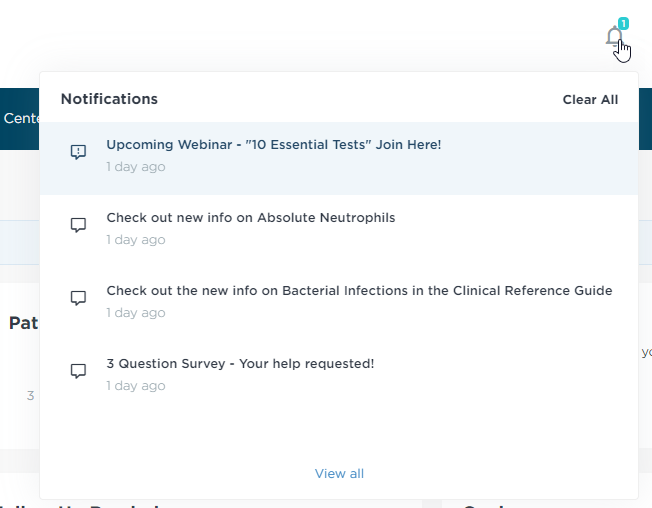 Recently Viewed Section
I think you'll learn to love the recently viewed section on the dashboard. Many of the recent actions you perform in the software are recorded here including latest patient view, latest lab test view, latest reports run (both core and classic), and latest areas of the reference guides you have visited. Rather than scrolling through pages on the site to revisit patient A's blood results, you can just click the link in the recently viewed section and you'll go right there.

Also, as you can see in the image below, we have added some usage stats of your software activity on the dashboard.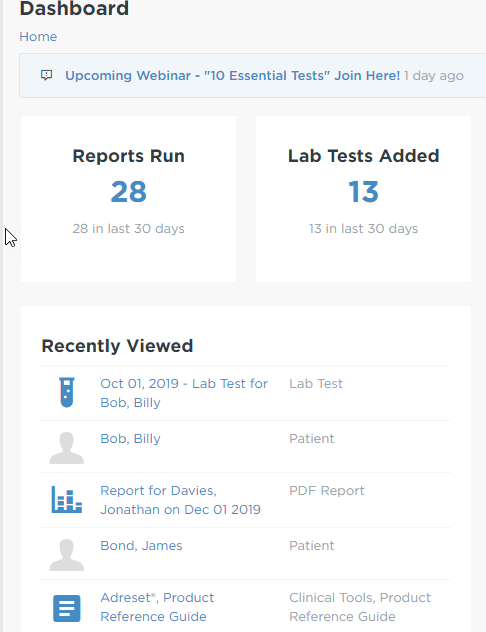 New Follow-Up Reminders
We have added a way for you to create a follow-up date for each patient. This can be set while you add a new patient into the software or added to an existing patient record. The "Follow Up Reminders" section on the dashboard keeps track of the upcoming reminders and also indicates patient follow-ups that are overdue.Why is this important? Any opportunity to bring a patient back in for a lab test and/or an office visit is good for the clinic and also good for the patient!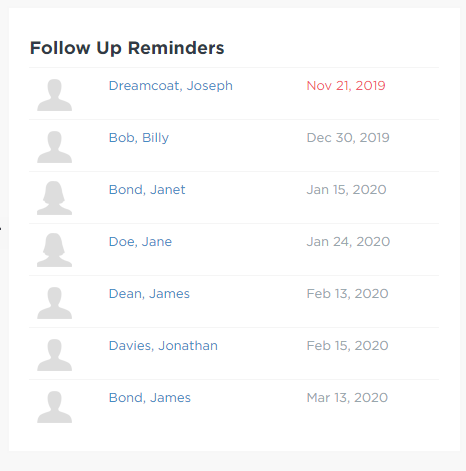 New Look to the Patient Dashboard
I really love the new look and the added functionality of the new patient dashboard. We have taken the styling from the core reports and added it to the patient dashboard. This is a great place to review the results from the latest blood test plus review all the lab tests added for this patient and run reports.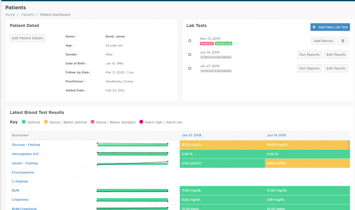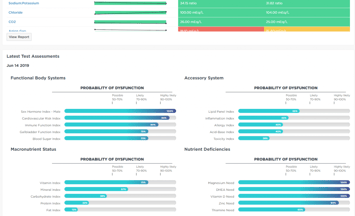 As I mentioned above, much of the functionality of the software program has not been touched. We've just added a fresh coat of paint to bring a more contemporary look and feel that will grow with us as we take the ODX application to the next level and beyond!
I hope you enjoy the new user interface and the new features as much as I do!