QUESTION:
Has the ref range for alk phos changed? Your software shows 150 being the very top of the standard range.
I recently reviewed a lab that showed a normal Alk Phos is 78-326. The patient's result was 305.
ANSWER:
No, our standard range "High" for Alk Phos has not changed. Our standard range remains 35 - 150. This is based on an average of the Standard Ranges from Quest for Males and Females.
Alk Phos is one of those lab results that show considerable variability based on age as the levels of Alk Phos increase in adolescents due to an increase in the production of the Alk Phos isoenzyme from the bone. In adolescence, we see the greatest increase in bone development, and as such levels of the bone isoenzyme for Alk Phos are higher than in adults.
If you check your patient's lab results, you will notice that the Alk Phos range of 78 - 326 is for a 14-year-old male: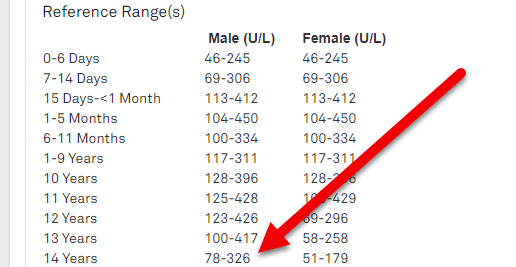 The ODX software is designed for adults and not pediatric or adolescent blood test results.